Explore the Beautiful Parks of This Idyllic Houston Suburb

is one of Houston's most highly-regarded and sought-after communities for those seeking a luxury home. With large, beautiful homes, pristine landscaping, quiet residential streets, and a true atmosphere of luxury living, the area offers an unmatched lifestyle for those with discerning tastes. Nearby shopping centers provide designer offerings and high-end experiences, while those who work in the city's urban center will enjoy the short commute of just 5 miles to Downtown Houston.

​​​​​​​Among all of these great benefits, one of the absolute best reasons to buy a home in River Oaks is to enjoy the number of excellent parks and green spaces dotted throughout and near its manicured streets. Whether you're an avid runner seeking picturesque trails, a parent who wants a safe place to let their kids spend time outdoors, or a golfer ready to spend sunny days on idyllic courses, River Oaks offers plenty of options for everyone to enjoy their time in the great outdoors.

If you're interested in learning more about River Oaks' wonderful parks, read on—you'll find everything you need to know about the best ones in and near the neighborhood and why they're such a key part of what residents love about living in River Oaks.
Memorial Park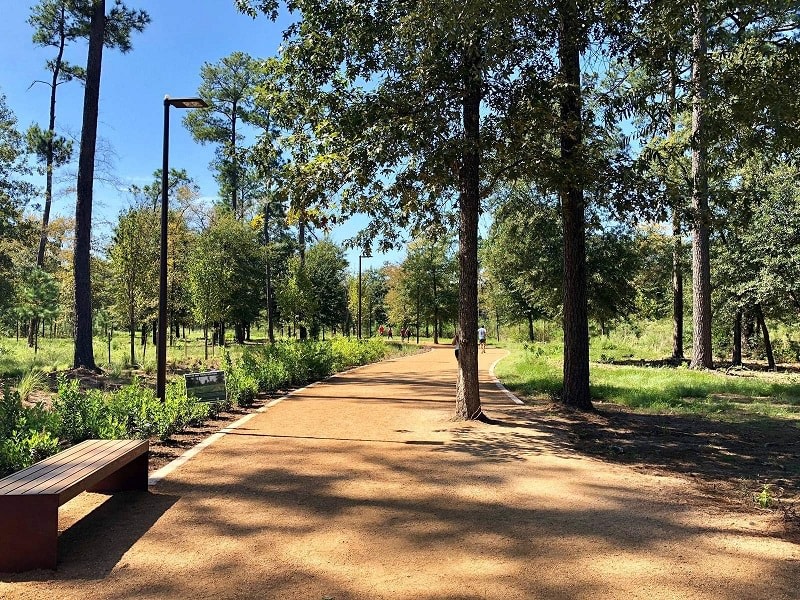 Photo Credit: Click2Houston

Memorial Park is one of the largest urban parks in the United States and the largest in Texas. Conveniently located directly adjacent to River Oaks just to the north, it has become an important part of what makes this area such a great place to call home. Residents of River Oaks get to enjoy all of the park's beauty, trails, and other amenities right in their backyards, making it one of the top selling points for the luxury homes in the neighborhood.

​​​​​​​Memorial Park has an impressive number of excellent features for the community. For walking and running, the Seymour Lieberman Exer-Trail is a pedestrian-only trail that is open 24 hours and spans 3 miles—all of which is lighted with exercise stations, drinking fountains, and restrooms. It's a paradise both for those who appreciate a calm, scenic walk and for runners seeking a safe, well-equipped space for rigorous training. There are around 30 miles of other trails suitable for walking, running, and hiking, including ones at the Bayou Wilds, the Triangle Trail, and the Bridle Trails.

Bikers and skaters can also access many of the park's trails, with one popular choice being the Picnic Loop, where you'll also find car-accessible spaces for picnicking. The trails at the Bayou Wilds are especially popular with mountain bikers.

Another one of the park's great features for fitness-minded residents is the Memorial Park Fitness Center, which offers indoor fitness equipment, on-site trainers, lockers, and shower facilities that come with a low-cost membership, as well as a swimming pool that's open during the summer season.

Thousands of sports lovers flock to the park to enjoy its top-tier facilities. Some of the best places to get active include: The Memorial Park Golf Course, a beautiful 18-hole course that was inducted into the Texas Golf Hall of Fame in 2016; four sand volleyball courts surrounded by picnic areas; 18 tennis courts at the Memorial Park Tennis Center, in addition to a practice wall and a pro shop; and a number of softball, baseball, soccer, flag football, and multi-use fields for league and tournament play.
Gerald D. Hines Waterwall Park
Located just west of River Oaks is one of Houston's defining landmarks: the Gerald D. Hines Waterwall Park. Built in 1983, this 2.77-acre green space is bordered by oak trees and features the eponymous Waterwall, a stunning architectural creation that stands 64 feet tall in a semicircle structure that recirculates water on both its inner and outer walls.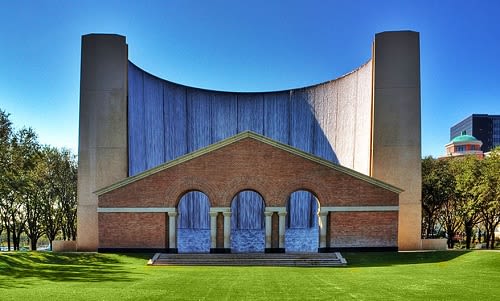 This unique structure and the surrounding park are a must-see for visitors to Houston and a favorite spot among residents for picnics, afternoon strolls, and the concerts and events that are often hosted on its grounds. At night, the Waterwall is illuminated in a stunning, one-of-a-kind display.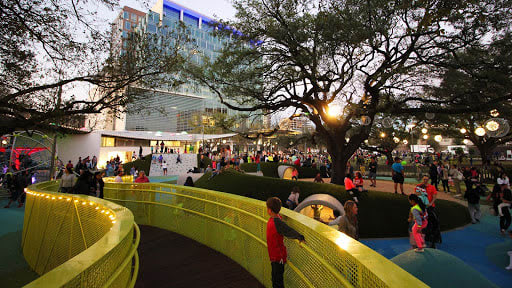 Photo Credit: OJB Architecture

Levy Park
Located slightly south of River Oaks in the Upper Kirby District is , one of Houston's most thriving and popular urban parks. Residents flock from surrounding neighborhoods to this 6-acre oasis that is full of natural beauty, great amenities, events, and more.
One of the park's most popular features is the Children's Park, which offers a variety of gorgeously designed, modern architectural structures that are suited for safe and fun play. This includes lighted tunnels, dance chimes, a climbing wall and climbing sphere, a water feature, and more that provide endless opportunities for creative and active play.

​​​​​​​The Activity Lawn and Event Lawn host a variety of great offerings, including group exercises like Tai chi classes, family concerts, and more. The park's trails provide scenic pathways through its beautiful landscaping and gardens, with one favorite being its Rain Garden, a collection of wildflowers and native plants that are sustained through natural irrigation systems, as well as the community garden, where kids can learn about how food is grown and participate in the agricultural process.

Other features include both small and large dog parks, a pavilion for shaded gatherings and picnics, and some delicious on-site dining options, including Woodshed Smokehouse and Love Shack.
River Oaks Park
River Oaks Park, also known as "Pumpkin Park," comprises 5 acres that were set aside for public use during the development of the River Oaks master-planned community. It offers green spaces for recreation and play shaded by lush trees and is the site of the historic River Oaks Community Center. The park is a great place to spend time relaxing, exercising, and giving the kids opportunities to play and explore.

At the park, you'll find a trail that's great for walking, running, and biking, in addition to well-maintained basketball and volleyball courts that are free for public use and a fenced-in playground for kids that was recently updated to be cleaner, safer, and more exciting. The park is known as "Pumpkin Park" because of the distinctive Cinderella pumpkin carriage that's part of its fun and modern playground, which is a favorite for local children.

This park acts as a true centerpoint for the community, where people can meet, talk, and enjoy some of Houston's most beautiful days. Some of the other features the park offers for the community include a free mini library and two wishing trees. Visitors can use the pen and paper provided for free by the park to write out their wishes and hang them on the trees—a fun activity for kids and adults alike.
Meyer Park
If you're a River Oaks resident looking for a place to take a casual walk, spend time with friends, or meet up with neighbors, Meyer Park is a great option. Located on Reba Drive in the midst of some of River Oaks' most elegant homes, Meyer Park is a neighborhood green space that is bordered by large, mature oak trees and features a beautiful open field suitable for picnics, playdates, and casual sports games on the green grass. It's one of the many convenient spaces that make River Oaks such a great place to call home.
River Oaks Country Club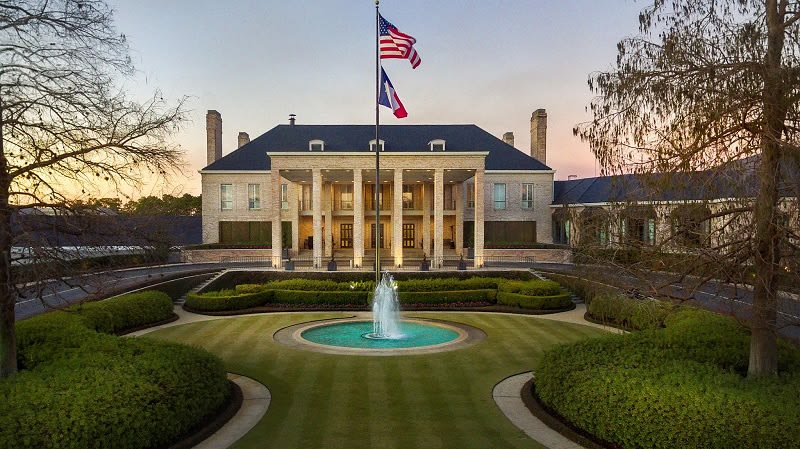 Photo Credit: Rivers Oaks Country Clu​​​​​​​b

Though not technically a park, the River Oaks Country Club is a favorite destination among residents to spend days enjoying the outdoors in the height of luxury. Membership is extremely exclusive thanks to its reputation as being Houston's classiest club, which draws the elite of the city's business, philanthropic, and political leaders.

​​​​​​​Members enjoy the club's meticulously maintained facilities, which include: a fitness center that offers equipment for individual workouts as well as classes such as yoga and Pilates; a gorgeous swimming pool and pool deck for sunbathing and relaxation; a professional standard tennis complex; and a challenging golf course that has previously acted as a venue for the PGA Tour.
Small Urban Parks
River Oaks has many smaller parks that are spread throughout its neighborhoods, providing open spaces for picnics, play, and casual games of sports. Some of these include Pine Valley Park, a small green space perfect for picnics; Homewood Park, a neighborhood oasis with towering trees; and Live Oak Park, a lush, shaded area with swing sets and picnic tables.
Looking for a Home in River Oaks?
If you want to enjoy River Oaks and the beautiful lifestyle it offers, 
 can help you find the perfect property to meet your needs. Clayton is an experienced Houston real estate agent ready to help you make your dream home a reality. Whether you're interested in high-end River Oaks properties, homes for sale in Downtown Houston, or Memorial Park, Houston real estate, Clayton has a proven track record in luxury home buying and selling that clients can trust. You can learn more about 
 for luxury buyers and 
contact us
 today to get on your way to buying your next home.