With Fall in Full Swing, Now Is the Perfect Time to Get Outside and Take Advantage of Some Happy Hours
Happy hour is a great day to celebrate a birthday, a night out with friends, or even a regular Tuesday evening. Lucky for you, River Oaks is surrounded by an abundance of cocktail and wine bars right at your fingertips. Here are 15 of the best happy hours in the area.
Backstreet Cafe
Nestled in a snug 1930s era-house,
Backstreet Cafe
has been a part of the River Oaks community for the past 35 years. This Houston dining establishment is well-loved by locals and visitors alike. With a diverse menu, a luscious outdoor dining garden, and high-quality customer service, it's not hard to understand why. Their menu boasts a diverse range of flavors, from Southern to Cajun to Asian (to name a few). Stop by for bites and drinks Monday to Friday between 3 PM and 6:30 PM. Enjoy happy hour while dining on their New Orlean-style patio, complete with a camphor tree and flowering shrubs.
Blue at Brenner's on the Bayou
With their first location established in 1936,
Blue at Brenner's on the Bayou
knows a thing or two when it comes to making the perfect steak. With a regal atmosphere and plenty of outdoor dining, Blue at Brenner's is the ideal spot to bring a date or celebrate a special night out. Happy hour takes place Monday through Thursday between 5 PM and 7 PM. During this time, you can sip refreshing signature cocktails and grab some light appetizers. Try their Cool Cucumber Martini or grab an order of their seriously delicious hand-cut truffle fries.
Credit: Crú Wine & Food Bar
Crú Wine & Food Bar
If you're looking for somewhere to take a date, why not try
Crú Wine & Food Bar
? This upscale River Oaks staple aims to please. You can choose from more than 300 wine options as well as an assortment of tantalizing appetizers. When it comes to happy hour, you can enjoy Flights and Food on weekdays from 3 PM to 6:30 PM.
Piggy's Kitchen and Bar
Piggy's Kitchen and Bar
is a well-loved Houston staple. Nestled in the River Oaks District, this local eatery is known for its spin on American classics, expansive outdoor patio section, and commitment to local craft brews and homemade cocktails. Stop on by for happy hour Monday to Friday from 3 PM to 7 PM and grab some burgers and beer!
State of Grace
Dining at
State of Grace
is a refined culinary experience that you don't want to miss. This old-timey Houston restaurant is sure to take you back in time and make you feel at home with their mouthwatering menu. Elegantly incorporating flavors from America, Latin America, the Gulf Coast, Germany, and various Asian cuisines, their bold and innovative menu has something to satisfy everyone's cravings. You can experience a limited menu when you stop by for happy hour weekdays from 3 PM to 6 PM, including a selection of $1.50 oysters. Elevate your experience by opting for outdoor dining on their patio.
Chuy's
Texas is undoubtedly famous for its Southwestern cuisine known as Tex-Mex. Whether you're visiting Texas or call River Oaks home, you can experience some classic Tex-Mex at
Chuy's
. Established in 1982, this Tex-Mex eatery is the place to be for Taco Tuesday, Margarita Monday, or happy hour. Their outdoor patio has a relaxed ambiance, where you can sit back with friends and family. Happy hour occurs Monday to Friday between 4 PM and 7 PM, where you can take advantage of reduced drink prices.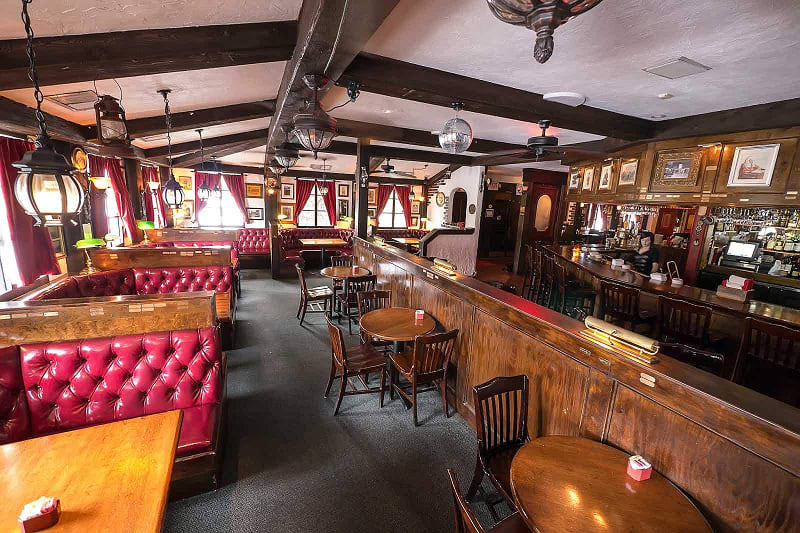 Credit: Zagat
Red Lion British Pub
Traveling to London might be out of the question for the moment, but you can still experience authentic British food at
Red Lion British Pub
. This hole-in-the-wall English eatery is known for their classic fish and chips and shepherd's pie. With sidewalk and patio dining, Red Lion British Pub allows you to safely enjoy a night out with friends. Enjoy happy hour between 11 AM and 7 PM Monday to Friday.
Local Foods
If you're looking for somewhere to grab a quick and tasty lunch or a local spot to enjoy some delicious happy hour appetizers,
Local Foods
is the place for you. This Houston café is dedicated to using fresh and healthy ingredients to create its flavorful and fulfilling menu items. Gourmet sandwiches, salads, fresh soups, and homemade snacks are just a few of the options you can dine on here. Happy hour occurs daily from 4 PM to 7 PM, where you can enjoy bites and drinks with outdoor dining. Happy hour options include vegan cashew queso, beet hummus, roasted fall veggies, and vegan frito pie—all for only $5. Also for only $5, you can choose from a variety of wines and local draft beers. With unbeatable prices and delicious selections, what's stopping you from heading to Local Foods for your next happy hour?
La Griglia
It's hard to find the perfect plate of pasta, but
La Griglia
is up for the challenge. This River Oaks Italian joint has been providing the city with authentic Italian dining for the past 25 years. With colorful murals throughout the restaurant, La Griglia has a lively atmosphere that pays homage to a neighborhood trattoria. Dine al fresco on their stylish outdoor patio, complete with fire pits—allowing you to stay warm as the weather starts to cool down. Enjoy cocktails and light bites during happy hour Monday to Friday from 3 PM to 7 PM.
Toulouse Cafe and Bar
Nestled in the River Oaks shopping district,
Toulouse Cafe and Bar
is all about serving genuine French cuisine. From duck confit hash to croque madame, you're sure to find all the French classics here. On weekdays, take advantage of happy hour from 4 PM to 7 PM and their outdoor patio. Although happy hour is only offered at the bar, don't let that stop you from grabbing some tantalizing appetizers and a little something to drink.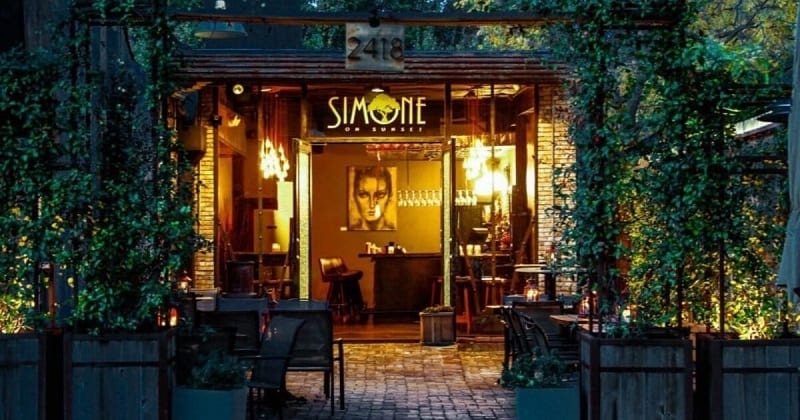 Credit: Simone on Sunset
Simone on Sunset
Artsy and creative are just a few of the words that describe this Houston hideaway. Simone on Sunset has a variety of pizzas, appetizers, and snacks available on their menu. Perhaps what's most special about this eatery is their courtyard. This intimate space is filled with candles and cozy seating while their dog-friendly front patio allows you to bring your furry friends along for the adventure. Enjoy happy hour weekdays from 4 PM to 7 PM and Saturday from 3 PM to 7 PM. Grab a $5 well drink, split a house bottle of wine for $21, or enjoy $1 off select beers.
FM Kitchen & Bar
If craft cocktails, cold beer, and comfort food are up your alley, then you'll love
FM Kitchen & Bar
. This gastropub offers American classics. Craving chicken wings? They've got it. Hungry for some loaded tots? Ready to take on The Kitchen Sink (a tasty sampler platter)? You can tackle that here, too! During happy hour—which takes place weekdays from 4 PM to 7 PM—every beer is on special ($1 off) along with assorted craft cocktails. Once you have your drink in hand, head outside to the patio for a game of bocce, Connect Four, or cornhole.
Sonoma Wine Bar
If wine is your torte, then we've got just the place for you. Established in 2006,
Sonoma Wine Bar
has since become one of Houston's most acclaimed wine bars. Their extensive wine list is sure to wow you along with their unbeatable customer service. If you have any questions or need recommendations, their helpful staff is eager to answer your questions. With a massive patio, you can enjoy happy hour outdoors with your loved ones.
Olive + Twist
Olive + Twist
has one mission: offer a simple and satisfying American menu in a light-filled and cheery atmosphere. And they've accomplished just that—their menu is jam-packed with American classics, such as burgers, pizzas, and sandwiches. Stop by for happy hour weekdays from 3 PM to 7 PM, where you can enjoy al fresco dining.
a'Bouzy
Nothing makes a celebration quite like popping a bottle of bubbles open. If you have a special occasion coming up or are simply looking to get out for the night, head over to Houston bar and restaurant
a'Bouzy
. Their French-inspired menu comes with a modern twist. On Mondays, stop by for 50 cent Gulf oysters from 11 AM to 3 PM and caviar at-cost every Friday from 11 AM to 6 PM. Enjoy more happy hour options Thursdays from 3 PM to 6 PM. This Champagne-filled spot is sure to guarantee a good time and help you create some unforgettable memories.
If you're looking to explore homes for sale in Houston, contact
Clayton Katz
today. As one of the most sought-after real estate agents in the city, Clayton serves a wide range of neighborhoods—from Houston Heights homes for sale to East Downtown Houston real estate. His expertise and dedication to client satisfaction are guaranteed to help you find your dream home.